Gottschall and Jackson Judge 2017 Utah Real Estate Challenge
April 6, 2017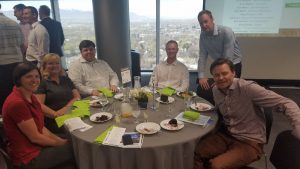 Bonneville directors Dustin Jackson and John Gottschall were judges at the 2017 Utah Real Estate Challenge today, April 6th, 2017.
Bonneville is proud to have had participated in this event since its inception in 2007 as both a sponsor and a judge.
Over the course of many months, students prepared and presented in-depth commercial real estate development plans to a panel of expert judges.  First, second, and third place teams were awarded $20,000, $10,000, and $5,000 respectively for presenting the most promising and economically viable real estate development plans.
In attendance at the Bonneville company table were (left to right) Laureen MacGregor, Tina Evans, Brandon Simmons, Ryan Thomas, Trevor Ellis, and Brady Larsen
More via PR Newswire: prnewswire.com/news-releases/students-design-the-future-in-utah-real-estate-challenge-300431190.html